Does My Employer Have to
Accommodate My Disability?
April 16, 2022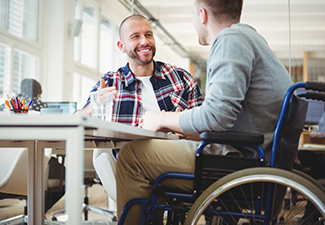 Both federal and state laws protect individuals with disabilities throughout the entire employment cycle, from hiring to on-the-job working conditions and fair treatment. The Ohio Fair Employment Practices Law prohibits employment practices that discriminate on the basis of disability. The federal Americans with Disabilities Act (ADA) goes even further and requires employers to make accommodations to help employees with disabilities perform their duties.
If you feel you've been discriminated against at work because of a disability, or you've been denied a reasonable accommodation to help you carry out your job function, and you're located in or around Akron, Ohio, contact the Law Offices of F. Benjamin Riek III.
Attorney F. Benjamin Riek III not only has more than four decades of experience in defending the rights of employees, but he also has a background working for the U.S. Department of Labor (DOL), so he understands all applicable federal employment laws.
The Law Offices of F. Benjamin Riek III proudly serves clients not only in Akron, but also in neighboring communities such as Hudson, Canton, Cleveland, and Lorain.
The Americans with Disabilities Act (ADA)
The Americans with Disabilities Act (ADA) of 1990 was a landmark piece of legislation that affects businesses and their employees throughout the United States. The ADA made it unlawful to discriminate against individuals with disabilities, starting with the hiring process and going on through any future employment. It also contained a provision requiring employers in most situations to provide accommodations for workers with disabilities, which could be either workspace- or job-related.
After several Supreme Court decisions regarding the definition of disability, Congress in 2008 passed the Americans with Disabilities Act Amendments Act (ADAAA) to broaden the definition of a disability. The definition of a disability remains "an impairment that substantially limits one or more major life activities, a record of such an impairment, or being regarded as having such an impairment."
However, the ADAAA expanded the list of "life activities" and provided other clarifications to extend the scope of those qualifying as disabled.
Reasonable Accommodations Under the ADA
The ADA requires employers to provide reasonable accommodations to employees with disabilities unless doing so would prove to be an "undue hardship." The U.S. Department of Labor defines a reasonable accommodation as "a modification or adjustment to a job, the work environment, or the way things are usually done during the hiring process." The department further explains the focus of reasonable accommodations:
"The ADA requires reasonable accommodations as they relate to three aspects of employment: 1) ensuring equal opportunity in the application process; 2) enabling a qualified individual with a disability to perform the essential functions of a job; and 3) making it possible for an employee with a disability to enjoy equal benefits and privileges of employment."
Examples of reasonable accommodations include, but are not limited to:
Installing a ramp or modifying a restroom

Modifying the layout of a workspace

Ensuring computer software is accessible

Providing screen-reader software

Providing sign language interpreters or closed captioning at meetings

Making materials available in large font size or in braille

Adjusting work schedules

Providing additional training or demonstrating job duties

Assigning non-essential job functions to other employees
Who Is Covered Under the Law?
The ADA applies to any employer with 15 or more employees. The Ohio Fair Employment Practices Law applies to workplaces with four or more employees, but it does not contain a provision for reasonable accommodations. The Ohio Employment Discrimination Act also prohibits discrimination based on disability and other characteristics such as race, gender, age, and more.
Can an Employer Require
Proof of a Disability?
First off, employers cannot ask job applicants about disabilities, though they can legally ask if the applicant is able to perform the prescribed job duties. Only when they hire a person can they inquire about any disabilities.
Normally, if you request a reasonable accommodation, your employer should provide it unless it creates an undue hardship for the company. The employer can, however, request proof. You should then provide medical documentation sufficient to show the disability. If the employer keeps pressing for more documentation, he or she may be violating the ADA.
How a Knowledgeable Attorney Can Help
If you're disabled and your employer is stalling on or denying your request for a reasonable accommodation, reach out to an experienced employment law attorney immediately. The ADA protects you against any form of discrimination because you're disabled, and the employer must prove that the accommodation you request would pose an undue hardship for the business.
If you're located in the Akron, Ohio, area or surrounding communities, rely on the Law Offices of F. Benjamin Riek III to help you with your issues at work. Attorney F. Benjamin Riek III has 40-plus years defending the rights of employees, and he stands ready to defend your rights as well.