New Employment Laws for a New Year
Feb. 22, 2022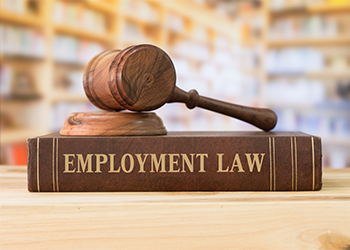 As the pandemic enters its second full year in 2022, Ohio has not only updated its self-isolation and mask guidelines but also passed new laws affecting employers and employees throughout the state.
The new employment laws raise the minimum wage for all workers in the state and codify new procedures for lodging complaints and bringing lawsuits for workplace discrimination, harassment, and other violations.
If you're an employee in Akron, Ohio, or the neighboring communities of Cleveland, Canton, Hudson, and Lorain, and you feel your rights as an employee have been violated, contact the Law Offices of F. Benjamin Riek III.
As a former employee of the U.S. Department of Labor (DOL), Attorney F. Benjamin Riek III is extremely knowledgeable about employment laws and is dedicated to protecting the rights of working Ohioans.
COVID-19 Response
After the U.S. Supreme Court overruled the U.S. Occupational Safety and Health Administration (OSHA), and the proposed rule to require mandatory vaccination or weekly testing for employees at businesses with 100 or more employees, the only remaining nationwide mandate is for health care workers. In Ohio, there are no state-issued vaccination or testing mandates. Employers are free to adopt their own standards.
The Ohio Department of Health has issued new COVID guidelines for exposure or infection by the coronavirus. Generally speaking, the guidelines limit the wearing of masks to 10 days and stay-at-home isolation to five days or until symptoms disappear. Testing is recommended after five days.
New 2022 Minimum Wage
Starting January 1, 2022, the statewide minimum wage rose 50 cents to $9.30 an hour, up from $8.80 for all non-tipped employees. Tipped employees saw their minimum wage rise from $4.40 to $4.65 an hour.
New Employment Law Uniformity Act
The Ohio Employment Law Uniformity Act (ELUA) first took effect in April 2021 and is now in its first full year of implementation.
The ELUA makes changes to employment discrimination laws in the state, lowering the statute of limitations for filing a claim from six years to two years. This is still longer than the statute of limitations for filing a federal discrimination complaint, which stands at 300 days. Most states have even harsher standards at 180 days.
The ELUA also makes it necessary for an employee to first file a complaint with the Ohio Civil Rights Commission (OCRC). Previously an employee could directly file a lawsuit. The ELUA lengthens the time limitation for filing with the OCRC from 180 days to two years.
This new requirement follows the standard employed by the U.S. Equal Employment Opportunity Commission (EEOC). Once you file a discrimination complaint with the EEOC, the agency may investigate, mediate or file a lawsuit on its own, or it may issue you a "right to sue" notice.
The ELUA also places new caps on discrimination claims using standards established by Ohio's Tort Reform Act, but at the same time, it limits the liability of supervisors. A supervisor can no longer be directly sued unless they are the employer and; carried out retaliatory efforts against the employee or; acted outside the scope of their employment.
The ELUA also addresses claims based on a hostile work environment. An employer can be protected from hostile work environment claims from employees if; they can show that they had policies and procedures to prevent harassment and show that the employee making a hostile work environment claim failed to take advantage of these policies and procedures.
The "Faragher-Ellerth defense," whose name derives from two federal lawsuits, shields employers who: 1) have an effective anti-harassment policy in place; 2) have educated their employees about the policy and complaint procedures and 3) have exercised reasonable care to prevent and correct harassing behavior.
When an employer can show that the complaining employee failed to take advantage of available corrective procedures, the shield can be invoked as an affirmative defense.
Attorney F. Benjamin Riek III Is On Your Side
If you feel you've been harassed or discriminated against at work, contact the Law Offices of F. Benjamin Riek III immediately. Let's begin filing your claim and exercising your full rights under the law. With more than four decades of experience fighting for employment laws in Akron, Canton, Cleveland, Hudson, and Lorain, Ohio, Attorney F. Benjamin Riek III is your trusted ally when it comes to combating workplace wrongs.