Understanding Race Discrimination
March 10, 2022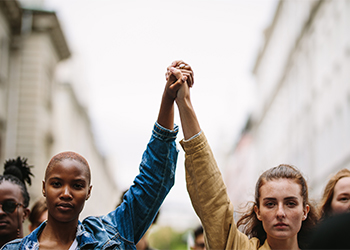 Ohio enacted civil rights legislation five years before the federal government passed the landmark Civil Rights Act of 1964. The Ohio Civil Rights Act of 1959 was said to "prevent and eliminate the practice of discrimination in employment against persons because of their race, color, religion, national origin, or ancestry."
The act originally covered only public accommodations, such as hotels and restaurants, to help prevent segregation in the era of Jim Crow laws across the nation. The Ohio statute was subsequently expanded over the years and now covers all businesses and is enforced by the Ohio Civil Rights Commission (OCRC).
Title VII of the U.S. Civil Rights Act protects individuals against employment discrimination based on race and color as well as national origin, sex, or religion. Both acts cover discriminatory practices in hiring, firing, advancement, and compensation and benefits, and they also protect against harassment and retaliation. The federal statute is enforced by the Equal Employment Opportunity Commission (EEOC).
If you feel you have been discriminated against because of your color, race, or national origin in Akron, Ohio –or in Hudson, Canton, Lorain, and Cleveland – contact the Law Offices of F. Benjamin Riek III immediately.
Attorney F. Benjamin Riek III will listen to your story, investigate and advise you of your options. He will use every administrative and legal remedy at his disposal to protect your rights and help make sure you are treated fairly.
Anti-Discrimination Laws
As mentioned above, both the federal government and the State of Ohio have statutes on the books protecting the rights of individuals against discrimination at work based on race, color, or national origin, along with many other characteristics, including age, sex, religion, veteran's status, pregnancy and more.
Before a lawsuit, you must file a charge of discrimination either with the EEOC or the OCRC. These agencies, if they don't investigate and resolve the situation, will then issue you a notice of the right to sue.
Before Ohio passed the Employment Law Uniformity Act (ELUA) in 2021, a lawsuit was possible before filing an OCRC charge, but not anymore. The ELUA also lowered the time frame in which you have to file a charge from six years to two. The EEOC has an even shorter statute of limitations at 300 days following the discrimination action or incident.
Defining Race Discrimination
When it comes to employment, race discrimination (or any other type of discrimination) can commence even before interviews are held for a job opening. The announcement or advertisement for a job may be discriminatory in its wording if it specifies that only certain types of individuals need to apply. Discrimination can also appear in the hiring process itself, and it certainly can affect a worker's employment status and working conditions.
Denial of advancement opportunities, or the training needed to advance, based on a protected characteristic is also discriminatory, as are workplace policies that limit compensation, benefits, sick and leave policies based on race, color, or national original – whether through overt acts or by a pattern of behavior. If, for instance, minorities are consistently passed over for supervisorial jobs, that is likely a sign of discrimination, as discussed next.
Disparate Treatment vs. Disparate Impact
The law recognizes discrimination in two forms, disparate treatment, and disparate impact. Disparate treatment refers to policies or actions that deliberately discriminate against classes of people, whether based on race, color, national origin, or another characteristic.
Disparate impact can be unintentional but will lead to discriminatory results.
Both disparate treatment and disparate impact are discriminatory and run afoul of the Ohio Civil Rights Act and the U.S. Civil Rights Act. They are also sometimes referred to as adverse treatment and adverse impact.
Harassment Based on Race
Civil rights legislation also protects employees from harassment based on their race or other protected characteristic. Harassment can range from derogatory jokes, racial slurs, personal insults, and expressions of disgust to intolerance toward a particular race. Mocking someone's accent is also harassment.
Harassment can come from co-workers, managers, customers, patients, and third-party suppliers.
How a Knowledgeable Attorney Can Help
Many employees fear coming forward with complaints of discrimination or harassment for fear that something worse might happen. Your supervisor or employer might make life more difficult for you, but the civil rights laws protect against retaliation.
If you feel you have been victimized by discrimination at work in Akron, Hudson, Canton, Lorain, or Cleveland, Ohio, contact the Law Offices of F. Benjamin Riek III immediately. As a former employee of the U.S. Department of Labor (DOL), Attorney F. Benjamin Riek III understands all applicable anti-discrimination and harassment laws. He can help you aggressively assert your rights. Do not hesitate to call right away.